The table tops are double-sided – two for one! – and are 2 feet square. The cost of the project will vary based on items you might already have but the biggest expense is the wood at about $25 – that's $12.50 per "table" – not too shabby at all, especially when you think about the alternative of actually buying an entire table. Or the gigantic house you'd need to store all that extra furniture!
Reclaimed Wood from Corn Crib HOW TO DESIGN AND BUILD AN ENTRY WAY COAT RACK AND BENCH There was a door in granddad's home the client wanted to preserve and wondered, if they provided the wood, could I build an entryway coat rack and bench using the door as part of the build. The wood they wanted to provide, well, that was from the family owned Tennessee corn crib that had been torn down and they didn't want to lose the wood or the memories. Not only was this a corncrib but it was eventually used by the great grandchildren as a play house. So for the client there are as many memories in this build as there are colors. THIS PROJECT TRULY DEFINES THE "CUSTOM" in BAYNE CUSTOM WOODWORKING. I spent some time to design a simple layout in @sketchup_official so the client could approve the idea I had in mind. The wood showed up in two deliveries so we stacked it outside because this was the first time I worked with barn wood. I did not want to introduce possible termites to my shop. So my first call was to my pest guy asking how I would treat the wood for termites. Much to my relief he said I had nothing to worry about. This was "real" wood! Not nominal at all, nominal is how we buy our wood at a local hardware store. Where a 2×4 is actually 1 ½  x 3 ½ . These 2×4's were at least 2"x4"'s if not more and were hard, heavy and dusty, did I say heavy? After cutting to length on my handy @DewaltTough miter saw, I had to take them to my @ridgidpowertools table saw and square up the bottoms only.  I was very careful not to lose any of the original saw marks and character because that would ruin the entire purpose. For someone who likes clean, crisp edges, this was a bit of a challenge. I used @kregjig Kreg Jig® K4 Master System to join all the pieces of the base, the seat frame and the supports to join the two together. I was very careful to hide all of the pocket holes so they could not be seen from any angle. I used Titebond Products original interior wood glue to join all the pieces together. The next item was to assemble the back which included grandad's door as the center piece. The door was only 71 ½ tall which determined the overall height of the project. Part of this back also includes two live edge pieces that we picked to use as the "L" shaped wings or side walls. The door measured 24" which left me with 6" on each side to make up the final size of 36". So I chose two of the straightest boards that were closest to 6" and cut them to width so as not to waste any wood or lose any character. I used the Kreg Jig® K4 Master System
Taking cabinet building to the next level I wanted to take another step in my building and see if I could build a cabinet without the use of screws. My wife found the plans in an old Woodsmith Magazine and asked me to build the largest bookcase of the set. My plan was to build the entire cabinet using dowels instead of screws, dado slots instead of pocket hole joinery and biscuit joints. Using rough oak purchased from a local lumber mill, I milled and sized the lumber to the specifications to create this book cabinet with 5 shelves. It was time to replace a number of older pine book cases in the house. Instead of using the traditional pocket hole joinery, the sides, shelves, doors and face frame were all joined using 3/8" dowels,biscuit joints, dados and glue. I used tempered glass for the doors for safety which I was able to purchase locally. The glass vendor recommended using silicone caulk to secure each pane before applying a few small mirror catches on all the sides. The doors were each hung with 3 Ball-Tip Full Back-to-Back Wrap-Around Inset Hinges. Finished with Minwax English Chestnut and homemade wiping polyurethane, this cabinet will stand the test of time and hopefully become a keepsake that is passed down through generations. *DISCLOSURE: Some of the links in this post are affiliate links. If you chose to click through and make a purchase I will earn a commission but there is no additional cost to you. It helps compensates the business for the time spent creating these posts. THANK YOU!
When you are gathering inspiration for barn door Plan, be sure to note the cost of the tools used in the plan. Barn door tools can often cost more than your actual door! But, there are many clever and affordable do it yourself tools options in the tutorials mentioned below! Let us explore some DIY Barn Door Tutorials. Just click on the blue text below and check some amazing fun Barn doors. They might be different from the one shown in above picture.
Online plans can be easy, helpful, and can save you time and money if you put in the effort to usethem. But if you buy plans one by one, you might speed a lot of time organizing and searching for things to build as well as having to decipher different plan formats. You might learn a technique or two or improve your skills slightly, but you'll forget everything by the time you go to find another plan. With organized lessons, however, you can always find the plans or instructions again easily, and come up with even more ideas of projects to build. Downloadable woodworking courses can save you money as well.
Finding the right diy woodworkers project ideas via the internet is simple if you know where to look. If you are a beginner, you might want to look for packages that provide a huge variety ofoptions. The best ones will include clear instructions, text, diagrams, and tips. A good online plan will help you learn the skills you need much more quickly, so you can maintain speed and keep making fun projects.
There are lots of clear finishes. But for a combination of usability and durability, you can't beat polyurethane. Oil-based poly, which dries slower than water-based, is best for beginners because it allows more working time. The other important difference is clarity: Water-based poly is absolutely colorless, while oil-based has an amber tone, which can be good or bad depending on the look you want.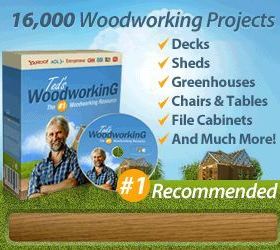 One of the best stud finders you'll ever use is the Franklin Sensors ProSensor 710. It's unique in that there's a whole bar of red lights that light up whenever it detects a stud. Unlike other sensors, which have a single light that stays on as it passes over the wood, the lights on the 710 tell you exactly where the wood stops and starts. No guesswork. Push a button, drag it over the wall and those hidden mysteries reveal themselves. You won't even need to read the directions!
The next hand tool every woodworker should have is a nail set. In fact, you should have several sizes. They look like awls, and you use them to drive nail heads into the wood so they are flush or right below the surface. This allows you to fill the holes and prepare for staining or painting. The nail setter will usually have either a convex or concave surface to grip the nail better and keep it from sliding off and marring the wood.
Holy Craft came up with a genius solution for a scratched and worn dining table!  If your table looks a little worse for wear, but you still plan on using it for messy situations like painting and crafting, you'll love this wood plank tabletop cover.  Slide it on for nice dinners and entertaining company, and tuck it away when your kids use play dough! // Holy Craft on Remodelaholic
This time I surprised one of my favorite dice games and took it outside. I made a set of wooden dice in just a few hours, and instead of sitting in the room and doing nothing, we are taking our dice game out into the yard. With this set of wooden dice, dice games are becoming our favorite backyard game. Check out the step by step tutorial below so you can make your own.
I am so glad to see this. It is exactly what I have been looking for. I have had a similar idea in my head for years but didn't know how to bring it together, and I wasn't sure how it would actually turn out. Yours is beautiful. It is nice to start with an idea of how the project will actually look when I am done. My table is 25 years old with a laminate top. The reason I want to cover instead of replacing it does that it is the first purchase my husband and I made together. It has seen 25 years of abuse by three little (now big!) boys and by me, the messy crafter. But I cannot imagine ever getting rid of this table. Plus it's not like I'm going to get less messy, so investing in an expensive table would be crazy. I love how I can take this top off and still do the messy damaging things on it. I am bookmarking this and if I ever get around to actually doing it LOL, I will send you pics
A quality wood moisture meter is vital to the long-term success of any woodworking project you put together. Lumber mills try to dry their batches of lumber according to the intended end product destination. That is, if the wood is harvested in the wet Northeast, but is going to be shipped to the arid Southwest, it will be dried more than wood kept in the Northeast for use by woodworkers. The success of your woodworking project, from wood flooring to kitchen cabinets to fine furniture, depends on the correct moisture content levels of the woods you use for your area of the country.

Verdict : Ted's product is EXTREMELY extensive with 16k plans and there are tons of projects to choose from. Not every woodworker online loves it, but it's cheap and perfect for every level of experience, I love it because this is basically the only resource I need. I highly suggest it. They also offer a really solid money back guarantee if you don't like it after all.
These unique clamps will save you time and aggravation in too many ways to list! MatchFit clamps slide anywhere along a groove routed with a common 1/2" - 14 degree dovetail bit and leave one surface of your work clear of obstructions. Use these clamps to create customizable clamping tables and for attaching table extensions, sub fences, stop blocks, hold downs, and more to your machinery and work tables. Imported.
Today I want to show you a project that's within your reach if you have a few tools, a couple weekends, and the courage to take on something new. If you're completely new to woodworking, this may be a little ambitious, but if you've got a little experience, you shouldn't encounter too much trouble. Keep in mind that I'm an amateur. I took shop class in high school and have done a few little projects here and there, but I'm certainly no pro.
Today I want to show you a project that's within your reach if you have a few tools, a couple weekends, and the courage to take on something new. If you're completely new to woodworking, this may be a little ambitious, but if you've got a little experience, you shouldn't encounter too much trouble. Keep in mind that I'm an amateur. I took shop class in high school and have done a few little projects here and there, but I'm certainly no pro.
Well I certainly can say most times when anyone comes into my shop they always ask….what's this do?...lol Although not my own design I do get many questions on the German Springpole Lathe from Roys last book. It's always a fascinating conversation piece…and usually gets people that have never worked wood really interested and wanting to learn more. When I show them spindels and how it works I always get an impressed or entertained reaction.
Building a table is one of the most deceptively simple woodworking projects going. What could be easier than gluing up a few boards and applying a finish, right? But reality is often surprising, because building a top for that table can go wrong in ways you might not realize until it's too late.  Here are my favourite tabletop construction tips, plus advice on how to avoid trouble.