This is another wood table but this time with a more elaborate design. Instead of using a large log, this time you'll need several small ones. The idea is to cut them to the same height and to try to create a mosaic with them. You can glue them together and you can also wrap a piece of rope or something similar around them. You should be able to create an original coffee table.
The engineering involved in building this garden bench is pretty simple, and we have provided some links to get a full cut list and plans with photos to help you along the way. Additionally, to the stock lumber, you will need wood screws, barrel locks, and hinges to complete the table. A miter saw or hand saw is also extremely helpful for cutting down your stock to the correct angle and length.
The Story of the Farmhouse Table with a Race Track While working my day job one of my managers came to my desk and said "I need your help". Come to find out she ordered a farmhouse table and bench on Etsy. However the person she ordered it from fell off the face of the earth and left her without a table or her money (Etsy made good on it for her). The reason she ordered the table was because of the three legged bench. She has a young son and was concerned that he would turn over a two legged bench. This one appeared to give her the stability that she wanted. My reply, "I can help!" After seeing the picture of the table she ordered I told her to give me a few days and I could find her an alternative. So I went out to one of my trusted bloggers, Rogue Engineer and found the table I wanted to build. Please check out his site and follow him on social media. After getting her approval of the style and layout, we agreed on a price and some minor adjustments to the plans. She only wanted a 7 foot table and she only wanted one bench, but that bench needed a third leg. So I made the size adjustments and quoted the table. Now the "Curve" A couple of days after we agreed on the project my client called and said she had an idea on the way to work. She needed to find a way to get her son to the dinner table. "Can I add a 1½" wide by 1/8th inch deep race track around the top of the table?" After I caught my breath and recovered I gave her some alternative ideas to avoid creating a race track into what I knew was going to be a beautiful table. She was convinced this is what she wanted, so I said well, this is why we call ourselves Bayne CUSTOM Woodworking. So I agreed and then the adventure began. The Build Instead of recreating what Rogue Engineer already did I will refer you to his free plans on his site. See the link in the opening paragraph.  He will provide the materials list needed. Below I will outline the changes I made and how I built the table and bench. While not huge changes, there are some that I made to meet the client's requests and some to add my own unique style. The plans call for a table that is 110" while I made mine to fit the client request of 84". Because I trimmed my boards I ended up with a 40" wide top instead of a 42" wide. She wanted only one bench so I made an 80" bench with 3 legs instead of the 2 legged bench. Let me also state up front that I rarely, if ever, use pine to build anymore, but I did use it on the job because
This time I surprised one of my favorite dice games and took it outside. I made a set of wooden dice in just a few hours, and instead of sitting in the room and doing nothing, we are taking our dice game out into the yard. With this set of wooden dice, dice games are becoming our favorite backyard game. Check out the step by step tutorial below so you can make your own.
I am so glad to see this. It is exactly what I have been looking for. I have had a similar idea in my head for years but didn't know how to bring it together, and I wasn't sure how it would actually turn out. Yours is beautiful. It is nice to start with an idea of how the project will actually look when I am done. My table is 25 years old with a laminate top. The reason I want to cover instead of replacing it does that it is the first purchase my husband and I made together. It has seen 25 years of abuse by three little (now big!) boys and by me, the messy crafter. But I cannot imagine ever getting rid of this table. Plus it's not like I'm going to get less messy, so investing in an expensive table would be crazy. I love how I can take this top off and still do the messy damaging things on it. I am bookmarking this and if I ever get around to actually doing it LOL, I will send you pics
If you want your table top -- any table top -- to actually ast without bowing/cupping/twisting, you MUST attach it in a manner that allows for seasonal wood movement. Wood is an organic product, and it naturally expands and contracts with changes in temperature and humidity. I'll post link below to a couple of options that you can cheaply buy which will allow you to securely attach a tabletop while still giving the wood the flexibility to move with the seasons. When you buy decently-made furniture at a store, they all accommodate for this one way or another. Don't just screw the top down to the legs or the skirt...you'll regret it later on.

Rolled-on poly looks terrible at first, but the bubbles disappear in minutes, leaving a smoother surface than most of us can achieve with a brush. Beware of ridges formed by the edges of the roller and humps where you start and stop. You can minimize both of those flaws by applying lighter coats. We experimented with several kinds of rollers and got the best results with microfiber mini rollers. We also tried rolling on water-based poly; don't do it.
Copyright 2018 by Cut The Wood. CutTheWood.com is a participant in the Amazon Services LLC Associates Program, an affiliate advertising program designed to provide a means for sites to earn advertising fees by advertising and linking to Amazon.com. Additionally, CutTheWood.com participates in various other affiliate programs, and we sometimes get a commission through purchases made through our links.
Woodworker's Supply is the expert's source for woodworking tools and hardware. We have the latest table saws, band saws, scroll saws, mortisers, jointers and planers for you to choose from. Looking for name brand cordless power tools or electric routers, router bits, and router accessories? We have a huge selection available. We represent the most respected brands on the market like Powermatic, DeWalt, Freud, Woodtek and many more. From traditional hand tools to high-tech digital measuring devices, we have what you need for the most intricate woodworking projects at woodworker.com.
Do you have older 18V DeWalt tools that are still near and dear to your heart but need new batteries? Consider firing up those old tools with 21st century technology. Now, 18V tools can be run on powerful 20V lithium Ion batteries with DeWalt's new battery adapter. The adapter slides into the tool and the battery hooks onto the adapter. It works on most 18V DeWalt tools but not all. It's sold two ways: the adapter alone (DCA1820), or the adapter with two compact 20V, 2.OAh batteries and charger. Now you'll be able to hold on to your favorite cordless reciprocating saw forever!
And if you haven't got a fancy stencil hanging around, you can still give your table a stencil-styled makeover, and it won't take much.  To make this fun herringbone table, Shark Tails took a boring side table and taped off a herringbone design then spray painted it gold!  It adds a touch of mod glam that's not overwhelming since it's in a small dose. // Shark Tails
Building a table is one of the most deceptively simple woodworking projects going. What could be easier than gluing up a few boards and applying a finish, right? But reality is often surprising, because building a top for that table can go wrong in ways you might not realize until it's too late.  Here are my favourite tabletop construction tips, plus advice on how to avoid trouble.
Work at a place where you're required to wear a steel-toe boot? Then listen up. Wolverine just introduced a new boot that's much more comfortable but still offers solid impact protection. Instead of steel, CarbonMAX boots have a protective cap made of carbon nanotubes, making them lighter and thinner. And if anyone knows about making comfortable work boots, it's Wolverine—they've been making them for more than 130 years.
There are lots of clear finishes. But for a combination of usability and durability, you can't beat polyurethane. Oil-based poly, which dries slower than water-based, is best for beginners because it allows more working time. The other important difference is clarity: Water-based poly is absolutely colorless, while oil-based has an amber tone, which can be good or bad depending on the look you want.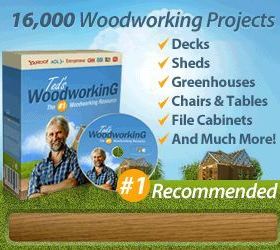 Oh do I need this!! I have been trying to remove the damaged veneer from a great antique table, but after many hours I think I will have to give up and try a new top. I want to make sure I understand……If I have a good base on the table, I just cut the board lengths I need and glue to the origianl table top? Do I need to secure the new top with screws from the bottom? I think the boards will give this table a whole new life. I can't wait to finish it. Thank you so much for being here TODAY!
After all slots are cut, stand each board on end and coat the edge of jointed side with wood glue. Next coat the biscuits with glue. Insert biscuits in one side only of each board, then insert glued biscuits in the empty joint of the next board. Assemble planks in order until the top is complete. Don't worry about small gaps. Next, carefully lay the top down and attach pipe clamps at roughly 1' intervals. Slowly tighten each pipe clamp in a consistent fashion until the gaps disappear*. Small amounts of glue can be removed when dry; scrape up any puddled glue with a plastic putty knife. To minimize sanding later, avoid working glue into the top of the wood. Let the top set overnight.
A lot of woodworkers share their projects through their own blogs or YouTube channels. In fact, we've shared many of them here before, including, Woodworking for Mere Mortals, The Wood Whisperer, Matthias Wandel, April Wilkerson, Sawdust Girl, House of Wood, FixThisBuildThat, Pneumatic Addict, Build-Basic, Rogue Engineer, Her Tool Belt, and Ana White. The best YouTube woodworkers create great videos, but also provide a complete blog post with a cut list, tools, materials, and instructions. Find your favorites and save them for when you're doing your searches.
The client then explains the furniture he wants. In detail, he describes the dimensions, moving parts, the features of the furniture and his budget for such work. The woodworker takes note of the information and gives the client an estimate. After a day or two, the woodworker gives a preliminary design of the item the customer wishes to have. The design could be revised if the customer wishes to alter it. The first exchange of money, the payment of the design fee, usually happens here.
For starters, this DIY wood table is for my son to keep his Lego projects and erector set buildings on. Secretly, it's for me because, in turn, it will keep the Legos from being scattered all over my house. We decided on measurements of 60″ long x 18″ deep for the table top. Now that I know how big I want our homemade table to be I reached out to Osborne Wood Products to find out what the next step is for building a table. They were super helpful and made it very easy to order the table base kit. We let them know the measurements for the table top as well as how much of an overhang. We then choose the traditional dining table legs in soft maple along with a 4″ wood skirt also in soft maple. The furniture kit came well packaged and rather quickly. 
Breaking down heavy sheet-goods on a jobsite table saw is difficult, and dang near impossible when working alone. That's where a track saw comes in handy. A good quality track saw can produce cabinet saw results out on any job. Now, this portable tool is even more portable. The FESTOOL TSC 55 is a cordless saw that has the same features and performs just as well as FESTOOL's corded saw, including the cut capacity and blade speed. It also has a collection bag that actually works, collecting up to 90% of the dust. The batteries are compatible with other FESTOOL products and the saw runs on their standard tracks.
Our favorite tools that make every project easier (and safer too!) With Black Friday soon to be upon us I wanted to put together a list of 11 items under $70.00 (it was supposed to be 10, but I couldn't decide which to leave off!) that I use on a regular basis in my wood shop. Each of these items will make great stocking stuffers, secret Santa gifts or just something you can purchase for yourself to make your shop more efficient and safer. I have personally used all these items except the tape measure. I bought that for my son-in-law who uses it on a regular basis. I find each of these items serve multiple purposes for me in the shop to keep me safe, provide my accurate measurements and give me that extra pairs of hands that I need. You can find Amazon links below that will take you directly to the item. *DISCLOSURE: The links below are affiliate links. If you chose to click through and make a purchase I will earn a commission but there is no additional cost to you. It helps compensates the business for the time spent creating these posts. THANK YOU! SAFETY FIRST GRR-RIPPER 3D Pushblock for Table Saws, Router Tables, Band Saws, and Jointers by MICROJIG – $59.00 Safety is essential in the shop and these GRR-RIPPERS keep tablesaw blades, router bits and Jointer blades away from my fingers. No shop should be without them. I Have 2 and use them daily. 3M Peltor Optime 105 Over the Head Earmuff, Ear Protectors, Hearing Protection, NRR 30 dB $19.95 Don't let the noise of your machinery ruin your hearing. I use these while running all the tools in my shop to protect my hearing. They fit well with safety glasses and are comfortable to wear for hours. MEASURING TOOLS Kreg KMA2900 Multi-Mark Multi-Purpose Marking and Measuring Tool Model – $42.11  Great things come in small sizes. I carry this little wonder in my apron  for every project. It helps me make sure that my wood is all the same thickness when coming out of the planer. I use it to set the depth of my dado cuts. FastCap PSSR25 25 foot Lefty/Righty Measuring Tape – $9.99 This tape measure is great for someone that has issues with the smaller measurements such as 1/8, 3/8, 5/8, etc.. Left or Right handed, this item really measures up. 12 in Centerpoint Rule – $13.95 I picked this up on a whim while walking through a wood store one day and I have never regretted it. I find it hard to determine the center point of wood at times and this finds center every time without failure and with great ease. Find the full measurement on the top of the ruler and find the same number on the bottom and that is center. NO ONE EVER HAS ENOUGH CLAMPS Large Rockler Bandy Clamps, Pair  – $24.99 I could never figure out what the fuss was for these until
You can also use Google image search to research a project. Unlike the PDF search, the image search provides a photo of what the project will look like, which is helpful in determining if you want to pursue building it. By doing an image search for how to build a step stool, you will have a ton of options that all lead to woodworking plans of various quality. (The how to part of these is important—otherwise you'll just get pictures of step stools.)
If your skill level is not yet high enough to tackle a difficult design, you need to get more practice by doing more basic designs, which teach you the techniques you will need for the harder jobs. It is rightfully said practice makes man perfect and you should do lot of practice to master this skill.
CHANNELLOCK thinks that they've got the solution to help unclutter your tool belt. The new CHANNELLOCK Reversible Jaw Adjustable Wrench is just like a normal wrench, but also features a part of the jaw with angled teeth. All you have to do is reverse the jaw and the teeth will let you get a tight grip on objects that that a regular wrench would just slide off of. These new wrenches are available in 6, 8, 10 and 12-inch sizes. They are available in most major hardware retailers in the US and Canada. Price and availability will vary by retailer.
There is no cost to use the database. Registering is not required. You should be able to browse the database and click through the links. Having said that, considering the fact there are so many browsers out there being used, this site's software might not allow some visitors to browse, it all depends on the Internet traffic, and your browser's compatibility.
Most construction tasks consist of a series of straight lines, but occasionally you run into a situation that requires an arc or a circle. A trammel is usually the best tool for the job, but there's only so much room in your toolbox. M. Power makes the Tri-Scribe, which hooks onto tools you already have, like the tongue of a square or a metal ruler, and transforms it into a flat-lying trammel. Strike a circle or an arc from 1 in. to 6 ft.—you're limited only by the length of your rule. You can either make your mark with a pencil or insert the knife blade and score the surface. Best of all, they take up hardly any room in your toolbox.
Hey Cara – We bought MinWax wooden stain in Cherry (the teeny, tiny can) and one other color, but it has been misplaced in the garage somewhere. We picked up sample sized containers of paint in Satin finish (we bought them at Lowe's so it was Olympic brand). I just found pretty blue and dark red paint chips and the paint counter guy did the rest! Hope that helps – happy to answer questions if you need any more info
Clamp curved caul edges inwards so they align tabletop boards in the middle, then torque up the main clamps to draw the boards together. If the width of boards you're using allow it, pre-glue boards for your tabletop in sections that are just narrow enough to fit within your thickness planer. Run these through the planer to clean and level the glue joints, then move back to clamps for final glue up. Working in stages like this reduces the number of glue joints you need to sand smooth and level later.
To save money, we keep the temp in our shop down low when we're not in it and crank up the heat when we return. But even when the air temperature hits 70 degrees F, the concrete floor is still Minnesota-cold. We tried a space heater under the bench, but it broiled the shins and still left us with cold feet. So we recently bought a foot-warming mat, and now our feet stay toasty warm. Plus, it uses a fraction of the electricity and is a lot safer than a space heater. The mat is produced by Cozy Products. The good folks over at Cozy suggest putting a chunk of cardboard underneath it if you use it on flooring that could fade from the heat, like carpet or wood.
Leave your tabletop longer than necessary until the sanding is done, then cut to final length. Most tabletops are too wide to trim on a tablesaw, even with a crosscut sled, and this is where I use a hand-held circular saw. Clamp a guide strip so it's square to one edge, then follow it with your saw. Repeat the process on the other end, then carefully use your hand-held belt sander to remove any blade marks on edges. It sounds like a coarse process, but you can get great results this way.
No, it's not a blood pressure tester. It's an inflatable shim sold by Calculated industries. What in the world would you do with an Air Shim? Well, you could hold a window in position (by yourself) while setting the permanent shims, or prop up a door slab during installation without scratching the hardwood floor. Use it to align base cabinets or level appliances. You could even trick your big, burly buddy by betting him that your 10-year-old can pick him up off the ground… you will win that bet because the Air Shim is easy enough for anyone to pump and it holds up to 300-lbs. Deflate it as slow as you want for uber precision adjustments.
This tool is specialized for the task of making shingles. The strange name comes from the antiquated word "froward," which means "away," in reference to the direction that the tool cuts. To use it, place the froe, blade down, on the edge of a log length, then hit the top of the blade with a wooden club, forcing the froe into the log. Next, pull the handle toward you and pry off a thin slice of the log. Voilà... shingle! Since buying a box of square-edged shingles is significantly less effort than making each and every one by hand, this tool has long since passed its heyday. But it still can be used to build up the kindling pile.
Family Projects I was given the opportunity to build the ring bearer box for the up coming wedding of my niece. She provided me with a picture from Pinterest for an example. I said no problem. Materials Made from white oak I milled the lumber using my @ridgidtools planer and sanded it using my SuperMax tools drum sander. Then I stained it with Minwax espresso stain and finished with multiple coats of poly. To make it even more customized I used red cedar to make the first letter of the bride and groom's names for the inside lid of the box. Project Ideas Most of my custom projects are the result of people presenting several photos of different pieces that they want combined to fit their specific need. One might show the size or depth, one might have a particular style they like, and one photo might show the wood stain they prefer. I take the time to build the plans in my drawing program and present the "new" piece to my clients for approval. It's a great way to build just what my customers need for their home and having photos cuts down on the guesswork. Let me know if you have something you'd like built by using this form, I'd be happy to provide a free quote for you. Now it's time to get back to the shop and make some sawdust! Disclaimer: We are now featuring affiliate links to help us fund this website. It does not cost you anything to click on the links. Thank you!
Because we were putting our new table cover over our existing table, we needed a rim that would hold it in place that was made of 1x2's. The 1x2's are an inch and half wide so adding two of those adds three inches overall to the length and width. I also added an extra 1/8" overall to both the length and the width so that there was a gap underneath so that the table could easily come on and off.
3. Sand off the corners of the long edges of the top side. Another personal preference. When you glue the boards together, this will help break up the top so that it looks like it was made of wooden planks instead of one solid slab of wood. You get the appearance of grooves without fussing with actual grooves, shifting boards, uneven gaps, and glue seepage. Check out the photos of the finished boards above or the one below after step 6 to see the "grooves."
The end grain of wood soaks up finishes and often turns much darker than the face grain. Check for this on your test block. If you get an ugly result, pretreat the end grain with a dose of finish that will limit absorption (wood conditioner, sanding sealer, shellac or polyurethane thinned 50 percent). Apply the treatment with an artist's brush and be careful not to slop onto the face grain.
The engineering involved in building this garden bench is pretty simple, and we have provided some links to get a full cut list and plans with photos to help you along the way. Additionally, to the stock lumber, you will need wood screws, barrel locks, and hinges to complete the table. A miter saw or hand saw is also extremely helpful for cutting down your stock to the correct angle and length.
ClickBank is the retailer of products on this site. CLICKBANK® is a registered trademark of Click Sales, Inc., a Delaware corporation located at 917 S. Lusk Street, Suite 200, Boise Idaho, 83706, USA and used by permission. ClickBank's role as retailer does not constitute an endorsement, approval or review of these products or any claim, statement or opinion used in promotion of these products.